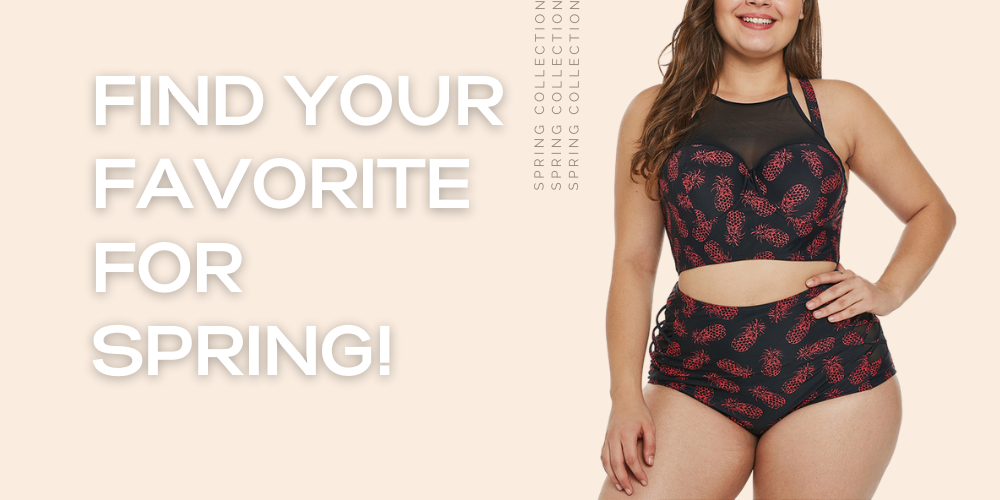 Spring Collection: Find Your Favorite For Spring!
Springtime is here and it's time to start your new collection of swimsuits! The warmer weather means it's almost beach patio season! Start your collection here with us at Curvy Waves, we have the ultimate selection of two piece and one piece swimsuits as well as tankinis for curvy girls!  With a wide range of colors, patterns and styles; you're bound to find something that you'll absolutely love. Here's a list of our top five swimsuits for this spring season!
Army Green One Piece Swimsuit
This printed halter mesh bathing suit is so stunning. The neutral olive green shade is perfect for those who like minimalistic modern looks. This one piece is super trendy and cute, you will look smoking hot with this beautiful bathing suit when you step out onto the beach. This stunning piece is perfect for any beachy occasion. Look like a runway model when you step out to any function with this bathing suit.This piece is super affordable, trendy and cute!
Black Print Two Piece Swimsuit
Make a statement with this stunning two-piece bathing suit. The colourful Galaxy pattern adds character in personality to any summer look. You will turn heads when you show up wearing this beautiful two-piece bathing suit. The Black Print Two Piece Swimsuit Comes in different sizes for both the bottom and top piece so you can cater this look to your specific  measurements. Show off your glorious curves with this fashionable swimsuit! 
Plain Black Two Piece Tankini
Look sultry and sexy as ever with this stunning black tankini. This piece will have you looking elegant and sexy at the same time. No matter what your body shape is, this tankini will perfectly complement your look. Give little black dress vibes with this awesome tankini. You know what they say less is more and this plane black tankini is no exception. This time he is extremely comfortable and hugs your body and all the right places. Look like an absolute stunner with this gorgeous tankini! 
Boho Blue One Piece Swimsuit
The Boho Blue One-Piece Swimsuit is absolutely gorgeous! Look like a total babe with this dramatic and colorful piece. This absolutely breathtaking swimsuit features a mischievous tribal design that is super vibrant and fun. The swimsuit comes with padding that offers comfort and support where it's needed. It also features removable straps so you can look daring or classy if you want. This super fun and saturated swimsuit  is the perfect choice for any curvy Girl!
Printed Halter Mesh Two Piece Swimsuit
Look edgy and cool with this sensational 2 piece swimsuit! The swimsuit is dark and Sultry and features a cute halter top. This fun and sexy pineapple print is super cute and a statement piece. Look absolutely stunning with this mesh halter swimsuit set! The high-waisted bottom piece of the swimsuit gives the illusion of an hourglass figure and perfectly hugs any curvy girl's waist. The halter top features padding for ultimate comfort and support. Looks cool as a cucumber with this spicy swimsuit set!