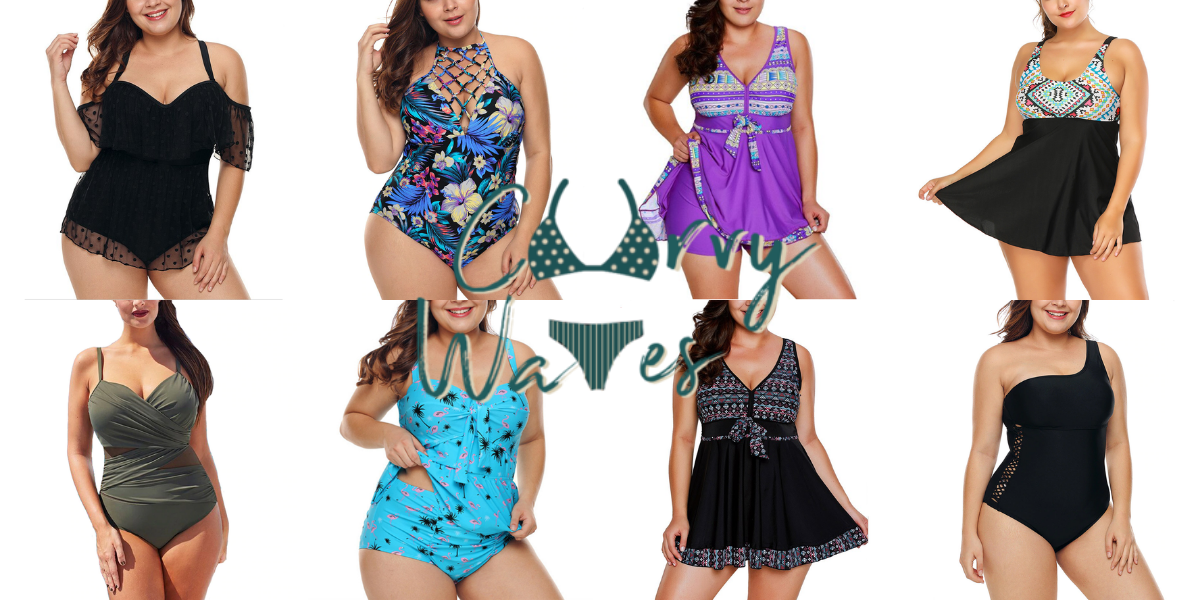 Top 4 Swimsuits to Gift for Mother's Day 2021!
As you all know, Mother's Day is just around the corner, and getting your loving parent an exceptional gift this time of year is essential. With such a change in our lifestyles in the past year, all Mother's out there deserve nothing but the best, for all the hard work and care they have given to support themselves, and their families. Grabbing some flowers, maybe some chocolates is a pretty generic, but still very thoughtful gift, however we have a much more unique way to show your love this May. 
With such a wonderful line of swimwear, Curvy Waves gives you the fantastic opportunity to share your appreciation with a gorgeous swimsuit fit perfect for a nice breeze and a beach! Today, I have narrowed down the Mother's Day Essentials list to four vital options that make for absolutely perfect gifts for the upcoming holiday. With accommodating sizing, you can get your ideal fit whenever you please, and all at an extremely affordable price. With so much character, taste, and style packed into one swimsuit, you'll feel like a million bucks every time you wear it. If you're looking to get a bang for your buck, these unique and spectacular bathing suits are a must-have. 
1. Aztec A-Line Two Piece Tankini
To begin our stellar Mother's Day List, we have a unique and tasteful design that happens to be one of our Top Sellers. The Aztec A-Line Two Piece Tankini is nothing but gorgeous! This is the perfect swimsuit to boost your summer styles up incredibly, and will have you more comfortable than ever while doing so. The elegant Aztec Age design combined with the light blue background makes for a stunning abstract view! To compliment, the black bottom works exceptionally, and truly boosts the wondrous vibes of this tankini. In seconds, know your go-to swimwear apparel and feel extra-confident the next time you head out to the beach! Gift the gift of love, and beauty, all-in-one, with this outstanding two piece swimsuit. You'll love the jaw-dropped look when your parent opens her well-deserved gift! 
2. Floral Blue One Piece Swimsuit
Next on our list is a summertime essential, the Floral Blue One Piece Swimsuit. This spectacular work of art is sure to have you standing out in style on your next beach outing! The gorgeous array of flowers and plants collaborate to create a brand-new style and give you an added boost of tropical vibes. With the paradise environment within your reach, this swimsuit is the perfect gift to prepare for the summertime heat. All of these positives at one heck of a price? Sounds like a fantastic deal to me! Surprise your loving mother with an extraordinary piece of swimwear, and have her amazed by the pure bliss and beauty it holds! 
3. Purple Two Piece Swimsuit
To continue down our list of beauty, we have an elegant twist on the abstract look, with our stellar Purple Two Piece Swimsuit. This glowing swimwear is sure to have you standing out amongst the crowd, looking better than ever, and giving you an added boost of confidence to go alongside it. Developed with nothing but comfort, style, quality, and perfect sizing in mind, this is the ideal premium two piece set you could gift your empathetic parent. With the utmost innovation and care put into the creation of this beautiful swimsuit, feel comfort like never before! Once you try it on, you won't look back. Who knows, you might even love it so much you come back for a different style, I know I definitely have! Give the purple luxurious vibe to your mother this May, and watch as her style and character is transformed.
4. Lace Overall Two Piece Tankini
To finalize our list, we have a unique style and vibe to add a sense of style and comfort to your mothers beachwear closet. The lovely Lace Overall Two Piece Tankini is a divine creation that will change the way you spruce up for the beach forever. The stunning laced section compliments the solid black swimsuit perfectly, and add a vibe of modern-day attire. Perfect for any mother, this swimsuit will set you apart from the crowd in seconds, and have people asking you where they can get one for themselves! Switch up your classic swimwear routine and slip yourself into this dreamy tankini, you'll notice an instant transformation in your confidence, comfort, and character! Give the gift of love this mother's day, with a touch of elegance, coming straight from this outstanding swimsuit! 
Wow! These four options make it tough to decide which one is best to gift your mother this May. With unique and sleek designs, slip into pure comfort and bliss in seconds, and never look back. What an amazing gift idea for all deserving mothers out there. For all the hard work, dedication, and time mother's put into to be there for us, show your appreciation and gratitude to her with one of these stellar swimsuits! This is the prime time to gear up for the warm summer heat, so make sure you don't miss out! 
Interested? Find the Perfect Mother's Day Gift by Clicking the Box Below!