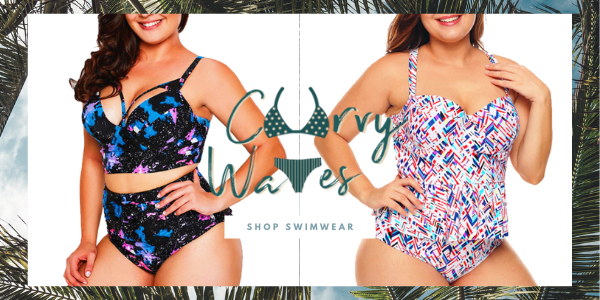 The 5 Best Swimsuits for the Beach!
Going to the beach is a summer staple. Whether you're venturing with your close friends or your family, finding that perfect bathing suit to flaunt your body best is much-needed! Swimsuits can be a tricky item. Finding your correct size, making sure it fits, ensuring your comfortability is not hindered, these are all some of the steps necessary to finding your ideal one. Nowadays, with the COVID-19 pandemic taking the world by storm, you no longer have the luxury of trying on your favorite swimsuits from your go-to store, making it hard for you to truly know if what you are buying is right for you. With that in mind, we at Curvy Waves understand the struggle and are making an immense effort to create the easiest shopping experience for girls looking for that gorgeous bathing suit that'll set them apart! With expert knowledge and great innovation, we are able to provide girls with high-quality, design-oriented swimwear that fits true to your body. Today I disseminate to you the 5 Best Swimsuits for the Beach that we have to offer! Boost your confidence greatly with any one of these five picks and never look back, strut your stuff the way you want too! 
1. Boho Blue One-Piece Swimsuit 
To begin this exceptional list we have a fan-favorite amongst our consumers, the Boho Blue One-Piece Swimsuit. This lovely curve-hugging fit is sure to have you looking like a million bucks on your first outing! With extremely accommodative sizing, you can purchase this swimsuit up to 6XL! The gorgeous blue backdrop creates a wonderful centerpiece filled with blossoming colors and notes of beauty! The impeccable abstract design is sure to give your energy a unique and trendy feel that won't go unnoticed! With absolutely no discomfort create a confident & beautiful look that you can dish out whenever you please!
Price: $29.99
Sizing: M - 6XL
2. High Waist Striped One-Piece Swimsuit
Coming in at second on this list is another fabulous one-piece suit with tremendous character! The High Waisted Striped One-Piece Swimsuit is perfect for any beach day! With its sleek and simplistic design, transform your swimwear closet in seconds, and never look back. The minimalist white & black tones are perfect to pair with any accessory you own, and will compliment that accessory superbly! Enter the new age of swimsuits and get your hands on one of these exceptional curve-hugging suits today! Your beach day will thank you for looking so amazing! 
Price: $29.99
Sizing: M - 6XL
3. Black Print Two-Piece Swimsuit
For our first two-piece swimsuit of the list, we wanted to begin with a bang! Our spectacular Black Print Two-Piece Swimsuit is the ideal purchase for your upcoming beach getaway! The gorgeous jolts of color this swimwear offers is a great way to introduce this new age style into your life! The wonderful blooming colors give you a phenomenal look while flattering your curves. With a great price, large range of sizing, and unique innovation, this suit is sure to have others asking where they can get themselves one! With the pure beauty this suit brings, the beach isn't ready for your stunning look! 
Price: $29.99
Sizing: M - 6XL
4. White Printed Two-Piece Swimsuit
To continue the trend of two-piece swimsuits, we add the White Printed Two-Piece Swimsuit! This two-piece has a whole lot to offer! The blissful and creative abstract pattern combined with the phenomenal color diversity create the ultimate swimsuit! The quaint yet powerful white backdrop is the perfect setting for the bloom of colors present on this swimwear. Create your confident beach look in seconds, it will not go unnoticed! The pure unique-ability of this swimsuit is an instant conversation piece, and will have your body looking better than ever! Boost your confidence with ease! Once you've tried a suit from Curvy Waves, you won't want to buy anywhere else! 
Price: $29.99
Sizing: M - 6XL
5. Beige Flowers Two-Piece Tankini
The final swimsuit on this list is a unique one with an exceptional modern feel! Our beautiful Beige Flowers Two-Piece Tankini is like no other on this list! The unique development of this swimsuit allows you to have maximum comfort both in an out of the water! Tankini's are a phenomenal option for any beach day and will allow you to feel confident all day! The wonderful simple design is subtle yet filled with endless beauty and is sure to give you a 'pop' to stand out amongst the crowds! With a more modern and classy vibe, show off your curves superbly and give yourself a comfortable way to enjoy the sun! 
Price: $29.99
Sizing: M - 6XL
Overall these five options are the perfect choice for any beach day! Whether you are looking for comfort, confidence, or just a stylish & trendy look, we combine all three into every single suit we offer to our consumers! With affordable pricing and accommodative sizing, we look to offer a spectacular option for every girl out there! Take one of these suits for a spin, and never look back! 
Interested? Click the Box Below to Shop Now!